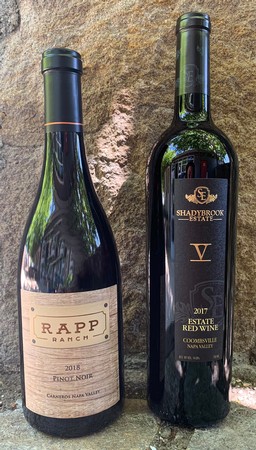 Premiere Pairing
This Premiere Pairing package is part of the ongoing TruffleTV series with Michelin star chefs. Chef Ken Frank of Napa handpicked these wines which are excellent when paired with truffles. To purchase tickets to this live event click here.
2018 RAPP RANCH PINOT NOIR
100% Pinot Noir
293 Cases Produced (12 Barrels)
Aged 22 months in 15% New French Oak

"Pale ruby in color, the 2018 vintage is a brilliant example of what a nonmanipulated Los Carneros Pinot Noir can be. Rounded and supple, the aromatics fill your glass with notes of ripe strawberries, rhubarb, and a wet stone. Bright acidity and firm tannins round out the palate while flavors of cherry pie filling, baking chocolate and matcha tea coat your tongue. Clean, pure, and fruit forward, this wine will make anyone a Pinot Noir lover!

2017 SHADYBROOK ESTATE V RED BLEND
47% Cabernet Franc | 24% Cabernet Sauvignon | 23% Merlot | 4% Petit Verdot | 2% Malbec
12 Barrels (312 Cases)
Aged 26 months in 65% New French Oak
"The Estate V Red Blend is a beautiful representation of the 15 acres planted to all five of the noble Bordeaux varieties on the Shadybrook Estate. These varieties are Cabernet Sauvignon, Cabernet Franc, Merlot, Petit Verdot and Malbec. Every year this blend breakdown changes to showcase Mother Natures' ever changing weather patterns and the unique characteristics this vineyard has to offer.
The 2017 vintage is full bodied and rich with complexity. Plum, black cherry pie, sage and sandalwood begin on the nose. Leave this wine in your glass for an hour and come back to aromatics that evolve into a fresh baked cinnamon roll. Flavors of coco, dried cherry, sweet pipe tobacco and rhubarb dance on the palate. Medium bodied tannins and a balanced acidity lead to a long, bold lingering finish."