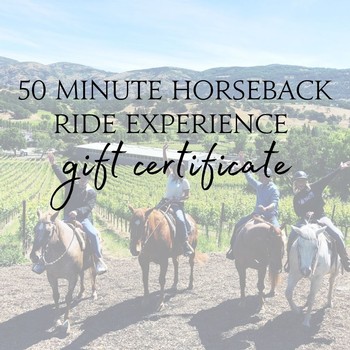 50-Minute Trail Ride Gift Certificate
Give the gift of a 50-minute Vineyard Trail Ride Gift Certificate!
Experience the Napa Valley from the original rancher's perspective - riding through the vineyards on horseback! Once you arrive you will be greeted at our western barn by our trail guides. Here you will get saddled up with a horse picked specially for you. Enjoy our quality trained horses as they introduce you to the tranquility of country life, helping you to leave city stress far behind. This 50-minute riding experience is comprised of the scenic 30 minute guided trail ride with an extended 20 minutes of trail to soak in the breathtaking vistas of the Rapp Ranch Estate adn teh surrounding hilsl of Coombsville. A "must do" for any Napa visit!
Experience is $145 per person